Skip to Content
We Offer State-of-the-Art Medical Treatment
Worley Magne has years of experience providing treatment regimens and diagnostics to an array of conditions impacting the face. Our patients trust us due to our welcoming office environment and experience level, as well as our willingness to use lasers and other state-of-the-art technology to help our patients. As ear, nose, and throat doctors, we're more than familiar with the conditions commonly impacting the face and how to address them. For expert treatments and diagnostics, such as in-office biopsies in New Orleans, LA, see us today.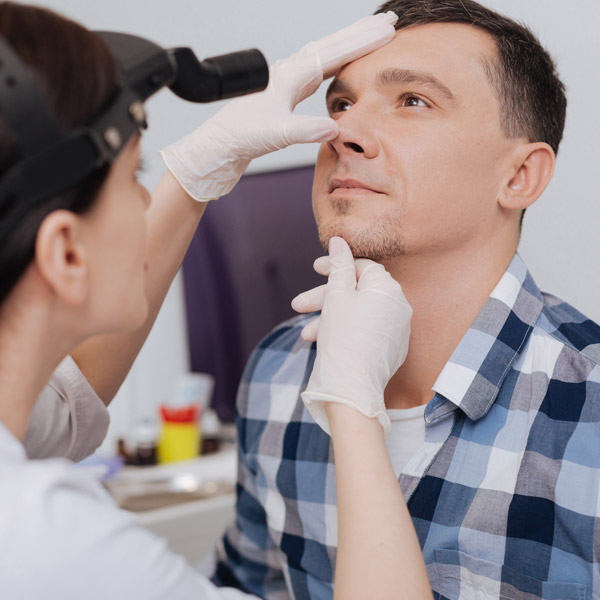 From Skin Grafts to Biopsies, We Can Help
One of the reasons New Orleans, LA-area patients trust Worley Magne is due to our ability to shift our focus depending on the unique needs of our patients. No two individuals are the same, and providing stellar treatment means embracing whatever medical technology and methodologies that are available to us. For facial conditions, we might use any of the following techniques to provide relief:
Skin Grafts
Skin cancer removal – even benign instances – often result in scarring, which can be embarrassing for many patients. Worley Magne provides skin grafts for patients who had a cancerous growth removed from their face. This procedure is painless and entirely effective.
Skin Lesion Excision
This procedure removes a cancerous skin lesion and a piece of the surrounding tissue – called the margin. We use lasers to perform as many procedures as we can due to how precise they can be. Our ENTs know how to perform these excisions without leaving scarring behind. Skin grafts can restore a healthy appearance.
Parotidectomy
A parotidectomy is a surgical procedure in which our ENTs remove the parotid gland, which is the primary salivary gland. We usually perform this procedure because of neoplasms, which cause an unhealthy division of cells.
In-Office Biopsies
Our ENTs can perform in-office biopsies to discover the extent of a disease, such as cancer. We have the facility to examine the tissue sample and provide an accurate diagnosis. From there, we can begin treatment if needed.
We Offer Treatment to All Age Groups
In addition to providing treatment for facial issues, our ENTs provide outstanding medical treatments covering thyroid disorders, hearing impairment, and a range of conditions impacting nasal and sinus canals. We proudly treat all ages, but we're especially proud of our ability to set children at ease so they can get the treatment they need without too much anguish. Our medical team commits to continuing education.